Rutgers nursing concludes its first international continuing care residency program
November 16, 2018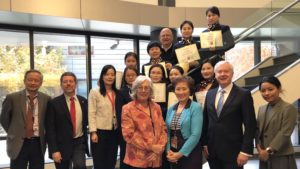 When 17 nurse managers were recruited to become leadership in a new continuing care retirement community (CCRC) in Southeast China, little did they know where their recruitment would take them. In a matter of months, they would leave home to train and bond as a team — nearly 8,000 miles away at Rutgers School of Nursing's first international continuing care residency program.
Suzanne Willard (PhD, RN, APN-c, FAAN), associate dean of Global Health and clinical professor, led the continuing care residency program with instrumental support from both Rutgers School of Nursing and Rutgers Robert Wood Johnson Medical School (RWJMS) faculty. Through the lead teaching of Clinical Assistant Professor Ying-Yu Chao (PhD, RN, GNP-BC), the team of nurses trained in two phases: the first spanning one month and the second, an additional two months. Visiting more than 20 facilities in New Jersey and New York, the nurses learned shoulder to shoulder and received certification in four specialty areas, including dementia care and end-of-life care. They also received certificates from Rutgers School of Nursing upon completing the program.
"I was excited that we could take the evidence-based program of Clinical Professor Edna Cadmus and her team and adapt it for the nurses," Willard said. "It will be great to see how they adapt the program to their own culture."
With China's aging population rapidly increasing, the shift toward CCRC facilities will start filling in the gaps left by other forms of care. All levels of services and care, from independent living to assisted living to hospice care, will now be available on the same campus for residents. Adaptation from an acute setting to a continuing care setting will certainly be key for all 17 nurses as they prepare for their launch in early 2019.
The task now for each nurse is to build and lead her own department in the new CCRC facility. This task, though challenging, is not impossible, especially with the resources the nurses have gained. "Before we [the nurses] came here, we did not know each other very well," nursing informaticist Jing Li said, reflecting on the residency program. "These three months allowed us to build very close relationships and make a very tight team."
Adding to this support, the nurses have a resource in Rutgers School of Nursing. The residency program has effectively laid the foundation for a partnership between both parties. Through mediums such as video conferencing, the two will continue to collaborate on continuing care nursing, marking the beginning of a new partnership.
– Sjuhye Grace Chung