Rutgers Giving Days, March 20-24, offer opportunities to support the future of nursing
March 20, 2023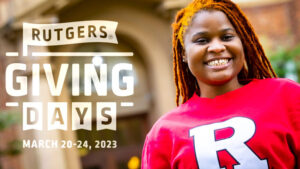 Rutgers Giving Days, the annual celebration of philanthropy in support of New Jersey's flagship higher education institution, takes place March 20-24. As the national staffing crisis makes the need to expand the nursing pipeline and support nurses' growth and development more evident, Giving Days offer donors a platform for supporting the future of nursing. Donors can give to two dedicated funds for Rutgers School of Nursing: the School of Nursing Student Emergency Fund and the EOF (Educational Opportunity Fund for School of Nursing)
"By participating in Rutgers Giving Days, individuals join together to highlight and amplify the strengths of Rutgers School of Nursing," said Lisha Bodden (MS), the school's director of development. "Every gift is important to support our school's commitment to our rallying theme, Excellence in Action. Every gift acknowledges the crucial role nurses play in advancing health and well-being in our nation and across the globe."
Rutgers School of Nursing Student Emergency Fund addresses critical needs
Each year, Rutgers School of Nursing sees some of its students struggle to continue their education after experiencing an emergency or catastrophic event. The School of Nursing Student Emergency Fund was created to support students when unforeseen financial emergencies arise. The fund assists students and their families suffering critical setbacks in housing, income, healthcare access, food security, and more.
The need for support among Rutgers nursing students is immediate and great. Students have indicated that food and rent are their most pressing concerns, as many have reduced opportunities to work since the pandemic began. By making a gift to the School of Nursing Student Emergency Fund, donors will be making a long-term impact on the lives and academic progress of nursing students.
Educational Opportunity Fund supports access to nursing education
The Educational Opportunity Fund (EOF) program at Rutgers School of Nursing provides access to higher education for students who demonstrate the potential to succeed in college, possess a high level of academic motivation, and qualify for financial aid. It is the only EOF program in the state tailored to the needs of nursing students.
EOF scholars are New Jersey residents who qualify for the program based on financial need and the potential for academic success. But EOF sometimes covers only a fraction of nursing school expenses.
Contributions to the EOF Giving Days Fund, assist EOF scholars to cover needs such as meals during winter/spring break, eyeglasses, medications, and emergency housing. It also supports educational enrichment opportunities, such as Study Abroad and NCLEX exam fees, and miscellaneous expenses for internships/externships.
Giving supports Rutgers' vision for academic excellence
According to the Rutgers Foundation, which spearheads the annual Giving Days observance, Giving Days supports the university's aims of providing inclusive access for as a national model for outstanding academic programs, social mobility, and educational equity with purposeful and timely degree completion, career preparation, and lifelong learning.
Gifts to support Rutgers School of Nursing are always welcome and can be made through a variety of methods. For more information, contact the school's Office of Development.