Professor Olga Jarrín receives Distinguished Nurse Researcher Award for 2023 from Hispanic Nurses Association
September 12, 2023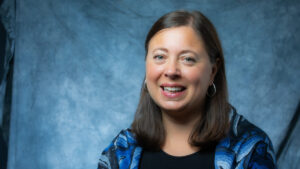 Rutgers School of Nursing alumna, nursing students, are also honored by the statewide association
---
Olga F. Jarrín Montaner (PhD, RN, FAAN), an associate professor at Rutgers School of Nursing, has received the 2023 Distinguished Nurse Researcher Award from the National Association of Hispanic Nurses – New Jersey Chapter. Jarrín is one of four honorees from Rutgers School of Nursing saluted at NAHN-NJ's gala awards ceremony held September 9 at Casa del Ray in West Roselle Park.
Alumna Elsie A. Rivera (DNP, APN, FNP-C), a nurse practitioner specializing in dermatology, received NAHN-NJ's 2023 Rising Star Award. She is a three-time graduate of Rutgers School of Nursing (BS '91, MS, '10, and DNP '18).
Bachelor's degree students Esther Madeira and Katherine Medina received NAHN-NJ scholarship awards. Both are members of the Educational Opportunity Fund program at Rutgers School of Nursing; Rivera also was a member of EOF during her undergraduate studies.
NAHN-NJ also recognized Assemblywoman Nancy Munoz a registered nurse and outspoken supporter of the nursing profession, presenting her with its 2023 Advocacy Award.
"Congratulations and thank you to Assemblywoman Munoz for her longstanding service to our state and our profession," said Linda Flynn (PhD, RN, FAAN), dean and professor. "And, I am so pleased and proud to congratulate Dr. Jarrín and our entire Rutgers School of Nursing contingent for receiving these well-deserved honors. These individuals are true exemplars of excellence in action."
An internationally recognized scholar, educator, and researcher, Jarrín recently was appointed to the Hunterdon Endowed Professorship in Nursing Research by the Rutgers Board of Governors. She is the director of the Multicultural Nurse Leadership Institute at the School of Nursing and also directs the Community Health and Aging Outcomes Laboratory within the Rutgers Institute for Health, Health Care Policy, and Aging Research.
Jarrín's research focuses on the intersection of gerontological nursing and health services. She leads multiple interdisciplinary research projects funded by the National Institutes of Health National Institute on Aging that are focused on improving health care delivery, equity, and outcomes for the U.S. Medicare beneficiary population living with chronic and advanced illness including Alzheimer's disease and related dementias.
Her interest in developing community and health systems strategies to improve health care access stems from her clinical background in home health care nursing and experience as an emergency medical technician in high school and college in New Jersey. Jarrín joined the Rutgers School of Nursing faculty in 2016 after completing postdoctoral fellowships in gerontological nursing and nursing outcomes research at the University of Pennsylvania. She received her PhD in nursing science from the University of Connecticut in 2010.