Olga F. Jarrín Montaner appointed to Hunterdon Endowed Professorship in Nursing Research
June 23, 2023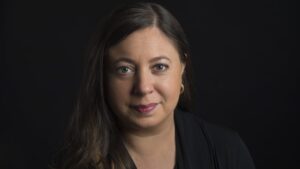 The Rutgers University Board of Governors has appointed Olga F. Jarrín Montaner (PhD, RN, FAAN), an associate professor in Rutgers School of Nursing, to the Hunterdon Endowed Professorship in Nursing Research for a five-year renewable term, commencing July 1, 2023.
An internationally recognized scholar, educator, and researcher, Jarrín's research focuses on the intersection of gerontological nursing and health services. She leads multiple interdisciplinary research projects funded by the National Institutes of Health (NIH) National Institute on Aging (NIA) focused on improving health care delivery, equity, and outcomes for the U.S. Medicare beneficiary population living with chronic and advanced illness including Alzheimer's disease and related dementias.
Jarrín's interests in community and health systems strategies to improve health care access and safety stem from her clinical background in home health care nursing and experience as an emergency medical technician in high school and college in New Jersey. Jarrín joined the Rutgers School of Nursing faculty in 2016 after completing postdoctoral fellowships in gerontological nursing and nursing outcomes research at the University of Pennsylvania. She received her Ph.D. in nursing science from the University of Connecticut in 2010.