Nursing student follows family tradition
May 10, 2022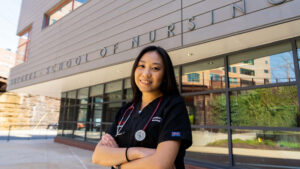 Class of 2022 Profile: Curstine Guevarra
It was preschool career day, and no one in her family was surprised that Curstine Guevarra chose to go to school in a nurse's uniform with a stethoscope slung around her neck.
If there were a gene for nursing, Guevarra undoubtedly would have inherited it. She comes from a family of nurses, and that stethoscope belonged to her mother. In fact, some two decades later, Guevarra is still wielding the very same stethoscope as a student at Rutgers School of Nursing. She also put it to use as a student nurse extern in the summer of 2021 at The Valley Hospital in Ridgewood. After graduating in May 2022 with a BS in Nursing degree, she plans to use the stethoscope in The Valley Hospital's critical care unit as an entry-level nurse in the hospital's Nursing Residency Program.
When Guevarra, who was born in the Philippines and immigrated to this country with her parents when she was 14, says that nursing is in her blood, she has the bloodline to prove it: Both of her parents are nurses…Her mother and her uncle were also nursing professors back in the Philippines, and she recalls innumerable times sitting in on their lectures when she was 5 or 6 and using pages from their nursing texts as her coloring books.