New Jersey National Guard's first nurse practitioner, a Rutgers student and alumna, is honored for work fighting COVID-19
February 15, 2022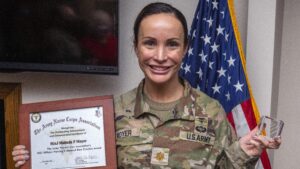 U.S. Army Major Melinda Moyer (DNP, FNP-BC, RN, CCRN, FN-CSA), an alumna and current student at Rutgers School of Nursing, received the 2021 Military Nursing Evidence-Based Practice Award from the Army Nurse Corps Association. She received the award for her work in fighting COVID-19 by collaborating with researchers at Yale University on the study "Medical surveillance of SARS-CoV-2 infections among military personnel."
Moyer is pursuing post-doctorate studies in the Nurse-Midwifery program at Rutgers School of Nursing, where she earned her DNP in 2019 and MSN in the Family Nurse Practitioner program in 2013.
She was recognized by National Guard leadership at an award ceremony held December 8 at the Homeland Security Center of Excellence in Lawrenceville. This is the first time an Army National Guard soldier has received this annual award, presented for outstanding contributions to military knowledge and practice.
"Congratulations to Major Moyer, a trailblazer in military nursing, on receiving this important award," said Linda Flynn (PhD, RN, FAAN), dean and professor at the School of Nursing. "We are grateful for her proactive role in the fight against the coronavirus and her continued service to our state."
The first nurse practitioner in the New Jersey Army National Guard, Moyer is the director of clinical programs at the Joint Surgeons Office, Joint Force Headquarters-Army Coordinate. She oversees the clinical management of all medical operations and training for the New Jersey Guard. She began her service in 2002 as a combat medic, NREMT-B, and was directly commissioned in the Army Nurse Corp in 2009 when she earned her associate degree in Nursing.
COVID Antibody Testing for New Jersey Guard
In spring 2020, Guard members who fell under Moyer's responsibility were concerned about being tested for COVID-19 after they'd been serving on the frontlines since the start of the pandemic. However, no testing program was in place.
After hearing about a COVID antibody study that Yale University was conducting with the Connecticut National Guard, Moyer contacted Yale and was able to get the New Jersey Guard added to the project.
She had complete charge of the New Jersey project, which provided blood antibody tests to service members who were on orders. Not only did Moyer draw the blood samples, but she also delivered the samples to Yale and followed up with those who had positive results.
From June to October 2020, she drew 728 blood samples. And, said Moyer, samples from the study contributed to the development of COVID vaccines.
Advanced Education for Advanced Practice
"I'm so proud of Major Moyer's success," said Associate Professor Tracy Vitale (DNP, RNC-OB, C-EFM, NE-BC), School of Nursing specialty director for the DNP Project and DNP Project courses. Moyer's DNP project—completed as a requirement for graduation– focused on improving the Army National Guard's screening for depression among service members. "She has always been committed to improving the health and well-being of our military personnel," Vitale added.
Moyer's certifications are Board-Certified Family Nurse Practitioner, Adult Critical Care Registered Nurse, Sexual Assault Nurse Examiner, and Registered Nurse First Assist. When she completes her current studies at the School of Nursing, she'll be eligible for certification as a nurse-midwife.
"Despite my background and education," said Moyer, "I have always felt there have been limitations placed on our servicewomen. My Nurse-Midwifery degree will close the circle on my formal education and provide me the tools required to advocate and implement change for this population in our armed services."