New Jersey Health Commissioner Judith Persichilli, the first nurse to fill that role, inducted into Rutgers Hall of Distinguished Alumni
November 4, 2022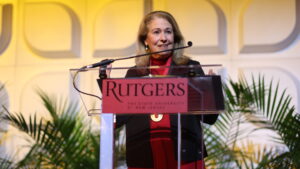 State Health Commissioner Judith Persichilli (MA, BSN, RN), a nurse who led New Jersey's widely praised public health response to COVID-19, was one of four outstanding graduates inducted into Rutgers University's Hall of Distinguished Alumni during a November 4 ceremony at the Grounds for Sculpture in Hamilton. She is the first nurse to lead the New Jersey Department of Health.
Induction to the Hall of Distinguished Alumni is the highest honor given to Rutgers graduates. Persichilli, who earned a BS in Nursing degree from Rutgers School of Nursing in 1976, worked alongside Gov. Phil Murphy, helping to lead the state's response throughout the COVID-19 pandemic. 
"The first thing I learned at Rutgers is that nursing is more than a practice. It's a profession that you can carry with you for a lifetime," Persichilli said as she accepted the award. "I hope that Rutgers students today are getting out of it everything that I have, and that is not only the learning but the curiosity. If you're not curious, you don't innovate. If you don't innovate, you don't progress, and that curiosity started with my experience at Rutgers." 
Prior to being named commissioner only months before the pandemic began, Persichilli was a leader in hospitals across New Jersey. Her roles included serving as acting CEO of University Hospital in Newark, president and CEO of Catholic Health East, and CEO of St. Francis Medical Center in Trenton.
Persichilli is cofounder of the Catholic Foundation of Greater Philadelphia, which provides fundraising support to organizations throughout the Greater Philadelphia region. She has earned many awards and recognition for her work, including induction into the New Jersey State Nurses Association Hall of Honor in 2006, the Rutgers School of Nursing Alumni Association's Outstanding Alumni Award in 2019, and an honorary Doctor of Science degree from Rutgers University–Camden in May. 
Also inducted for 2022 were public policy leader Richard Roper, aerospace technology and engineering trailblazer Kenneth Johnson, and project management and energy industry pioneer Brian Reilly.  
Introduced in 1987, the Rutgers Hall of Distinguished Alumni's first class of inductees included Paul Robeson and Nobel Prize-winning economist Milton Friedman. Since then, more than 200 alumni have been inducted, including five former New Jersey governors, recent Emmy Award-winning actor Sheryl Lee Ralph and Carli Lloyd, a professional soccer star who led the U.S. team to two Olympic gold medals. Inductees from Rutgers School of Nursing include:
2000 – Beverly L. Malone (PhD, RN, FAAN), CEO of the National League for Nursing;
2004 – Elizabeth M. Norman (PhD, RN) Author, and Professor, New York University Steinhardt School of Culture, Development and Education; and
2016 – Sung Poblete (PhD, RN) CEO of Stand Up for Cancer.
Inductees are selected by the Rutgers University Alumni Association (RUAA) Board of Directors, which leads the association made up of more than 570,000 Rutgers alumni worldwide. 
Source: Rutgers University Foundation and Rutgers University Alumni Association