New graduate is eager to enter nursing workforce to fight COVID-19
May 7, 2020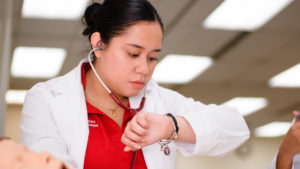 As a brand new nursing school graduate, Ashley Lopez knows she'll soon enter a workforce facing unprecedented challenges because of the coronavirus pandemic. Yet, she's eager to get started.
"It's been a long time coming over the past four years," said the new alumna of the Bachelor of Science in Nursing program at Rutgers School of Nursing. "Everything going on now has solidified my love for nursing."
Lopez and approximately 300 classmates received their degrees on May 1, an early graduation date set by the school to allow its seniors to get jump start on taking their nursing board exams to earn licensure as registered nurses. On May 5, the State of New Jersey announced that new graduates of nursing and other health professions programs can apply for temporary emergency licenses so they can begin working in acute care hospitals immediately.
"Seeing the COVID pandemic and how many patients need help, and how many nurses and health care professionals need support, made us more eager to get out there and do what we can," Lopez said.
Nursing School at Rutgers Newark was best fit
Lopez lives in New Brunswick, where she attended a science-themed high school that exposed students to health care careers. "I shadowed nurses at a local hospital," she said. "I fell in love with nursing and knew that's what I wanted to do."
Her younger brother's ongoing recovery from a stroke he suffered at only 18 months old, and her father's experience living with type 2 diabetes gave Lopez an insider's view of caregiving. "I saw how the nurses treated my family and was inspired."
She decided to attend Rutgers School of Nursing in Newark, which operates the state's only Educational Opportunity Fund program dedicated to nursing. "I learned about the resources offered by EOF and its focus on community involvement and professional development. It seemed like the best fit for me," she said.
Lopez, who is Hispanic (her mother is from Puerto Rico and her father from Peru) is a first-generation college graduate—an achievement that is more isn't just personally significant.
"My parents—I think they support me so much, because my degree isn't just for me, it shows others who are minorities, who come from economically challenged communities, that they can also succeed."
With her younger brother scheduled to attend the School of Arts and Sciences at Rutgers-New Brunswick in the fall, Lopez looks forward to sharing her insights as an alumna.
Well-prepared for rewards and challenges of nursing
Both academic preparation and strong relationships defined Lopez's nursing school experience. "My professors taught me everything I know. The knowledge they shared with me and my clinical learning will make me a competent nurse," Lopez said.
And relationships with friends and classmates were key. "I don't think I would have made it through without their support and compassion. You definitely need people on your side. You have a sense of camaraderie, we're all going through this together."
Facing the future as a nurse during Covid-19
Lopez hopes to sit for the NCLEX nursing exam by the end of the summer. She's been working as a nursing assistant in the neonatal intensive care unit at St. Peter's University Hospital in New Brunswick. They've offered her a staff nurse position when she gets her RN license.
As she prepares to embark on a full nursing career in such dangerous times, Lopez's own concerns are "more internal," she said. "Do I know enough? Am I prepared enough? I have all those questions that you get when you start something new," she explained. "But then I realize that I had great educational support and Rutgers really prepared me. That then eases my fears."
When asked what words she would impart to her fellow members of the Class of 2020, Lopez offered encouragement. "I would tell them 'We can do this. We are prepared, we are knowledgeable. We are ready to be out there in the workforce, helping patients and doing what we love.'"