Nadine Aktan appointed to lead undergraduate programs as interim associate dean at Rutgers School of Nursing
October 5, 2023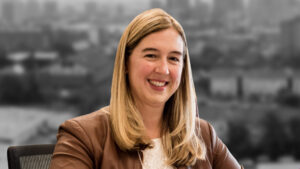 Nadine Aktan (PhD, FNP-BC) has been appointed interim associate dean of the Division of Entry into Baccalaureate Practice, one of three academic divisions at Rutgers University School of Nursing.
Aktan will head the division previously led by Wendy Budin (PhD, RN-BC, FAACE, FAAN), who has simultaneously been appointed interim associate dean of faculty affairs. Budin fills a post vacated by Tony Forrester ((PhD, RN, ANEF, FAAN)) who retired on September 1.
All of the school's bachelor's degree programs fall under the Entry into Practice division. Aktan joined Rutgers School of Nursing in 2021 as assistant dean for the Division of Advanced Practice Nursing, which comprises doctor of nursing practice, master's, and post-master's programs covering a wide range of advanced practice nursing specialties. The PhD in Nursing program falls under the school's third academic division–Nursing Science.
Rutgers University School of Nursing ranks among the nation's top 5 percent of schools for its Bachelor of Science in Nursing programs. It holds the No.1 spot in New Jersey and is nationally ranked at No. 31 in U.S. News & World Report Best Colleges 2024. The school awarded 336 bachelor's degrees in May 2023.
"I am proud to partner in leading faculty, staff, and students within of the nation's top 5 percent of program to continue to achieve excellence in action," said Aktan.
In announcing the leadership changes, Linda Flynn (PhD, RN, FAAN) dean and professor at the School of Nursing said:
"I am excited to welcome Dr. Aktan to her new role as interim associate dean of the Entry into Practice division! Dr. Aktan brings to this role close to 20 years of experience in academic teaching and leadership. She is a compassionate, highly skilled family nurse practitioner who has maintained an FNP practice for over 20 years.
"Prior to joining Rutgers School of Nursing, Dr. Aktan served six years as chairperson of the nursing program at William Patterson University, where she also has taught numerous courses including Health Assessment, Advanced Health Assessment, and Research Methods and Statistics, to name a few. Her leadership roles at William Paterson also included lead nurse practitioner coordinator for the Adult-Gerontology Primary Care and Family Nurse Practitioner programs and program coordinator for the accelerated BSN program.
"Dr. Aktan has an extensive history of scholarship, including numerous publications and professional presentations at local, regional, national, and international forums.
"Her advanced practice nursing, teaching, scholarship, and senior academic leadership experience make her an ideal choice as interim associate dean for the Division of Entry into Practice."