"Like returning home": Nelly Sekyere's journey to graduation
May 16, 2022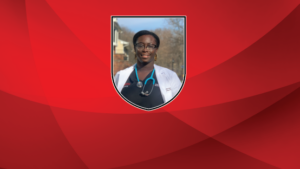 Nelly Sekyere, who will earn her BS in Nursing degree in May 2022, expressed that when she decided to go to Rutgers School of Nursing, "It was like returning home." She said, "I love Rutgers! From high school, Rutgers has been a part of my life."
Sekyere was enrolled in the 14-month, second-degree program at the School of Nursing, which admits students who have a bachelor's degree in another discipline. She has a bachelor's degree from the School of Public Health.
A serious accident and her experience as a patient inspired Sekyere's choice to become a nurse after some time working as an EMT. While she was on duty, the ambulance she was riding in was involved in a collision, putting her in the hospital. Throughout the traumatic experience, Sekyere recalled the warmth of the nurses. Having always admired the dedication of nurses, Sekyere stated, "On this particular day, I appreciated them even more."
Upon discharge, Sekyere applied to Rutgers School of Nursing. "Rutgers was my 1st choice," she said.
She remarked, "My favorite part in the School of Nursing is being a class representative, a peer mentor, and a campus coordinator. Meeting new students has been so exciting."
"Being able to give back and help others through this rigorous program has brought me so much joy. I believe once you're involved in activities during your time at Rutgers, you will truly enjoy your experience. I am sure I shall return once again for my DNP sometime in the future," she said.
She added that she has since "made life-long friends at Rutgers. Some professors have been amazing, and the tutoring service has helped me excel in the program."
Learn about the Second-degree in Nursing program at the Rutgers School of Nursing.