Home Health Care Services Reduce Re-hospitalizations for Medicare Patients with Diabetes
September 3, 2021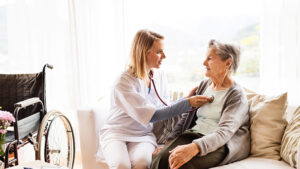 Medicare patients with diabetes are more likely to be re-hospitalized if they do not receive recommended home health care within two days of discharge, according to a Rutgers research study.
The study was published as two separate papers in the International Journal of Environmental Research and Public Health.
The researchers found that a patient's risk of re-hospitalization was significantly higher when recommended home health care started more than two days after hospital discharge. Patients who had a short delay in beginning home health care within two days were 1.28 times more at risk of re-hospitalization compared to patients who began within the recommended timeframe. Patients with delays beyond that were 4.12 times more at risk of re-hospitalizations.
"Timely home health care can improve outcomes in older adults following diabetes-related hospitalizations, but we found persistent racial/ethnic disparities exist in who was referred to home health care and who ended up receiving services within the critical first days," said the study's principal investigator Olga F. Jarrín Montaner, an assistant professor at Rutgers School of Nursing.
The lead author is Jamie M. Smith, an instructor at Thomas Jefferson University who worked on the project while pursuing her PhD in Nursing at Rutgers. Co-authors include Haiqun Lin and Charlotte Thomas-Hawkins of the Rutgers School of Nursing and Tina Dharamdasani of the Rutgers School of Public Health. The study was funded by the Agency for Healthcare Research and Quality and the National Institutes of Health.