Fifth team of Japanese nursing students participates in annual simulation training
September 18, 2019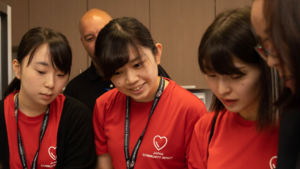 Disasters come in different intensities and forms — their impact is unpredictable. But that doesn't mean our disaster response has to be either, no matter the devastation.
Maika Koizumi, a Miyagi University student, learned this lesson firsthand during the Great East Japan Earthquake in 2011. She shared her story at a recent disaster nursing training at Rutgers School of Nursing (SON).
A devastating natural disaster
Koizumi was in elementary school when the 9.1-magnitude earthquake struck Japan just outside its northeastern coast. Tsunami waves descended on the shore, triggering a nuclear meltdown.
"While they were running, some students lent their shoes to others. A teacher carried a student who was in a wheelchair and ran up the hill. Older students tried to calm the young ones who were crying out of fear," Koizumi recounted. "My brother did his best to save the lives of others, which taught me the importance of quick decision-making and helping each other."
Annual international training
Koizumi applied her decision-making in real-time when she and a team of Japanese nursing students trained at an annual global trauma simulation hosted by Rutgers nursing. The group was the fifth to join SON from the TOMODACHI Initiative in their ongoing cross-cultural partnership.
Participants rose to the challenge in the simulated emergency room as injured patients rushed to the scene on stretchers and wheelchairs — trauma victims of an overturned train that lay wrecked by an earthquake.
With actors in special effects makeup applied by SON staff and with Robert Wood Johnson University Hospital staff on hand for guidance, the training provided the students a simulation education to increase their confidence and develop their critical thinking, improving, in turn, their disaster response skills.
Learn more about this annual disaster nursing initiative.
– Sjuhye Grace Chung