Doctoral Student's Research Finds COVID Worsened Nurse Burnout
July 21, 2023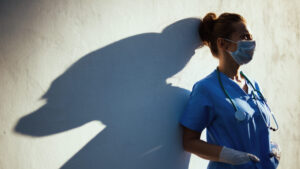 Nurses were burning out before COVID-19. Long hours, intense emotions and cumbersome procedures all generate stress.
The pandemic made a bad situation worse, according to research from an unusual source: freshly minted doctoral degree recipient Lynne Moronski.
Unlike most doctoral students, who enroll shortly after undergraduate work, Moronski first spent 25 years raising a family and rising through the administration at Memorial Sloan Kettering Cancer Center. She then got an undergraduate nursing degree and worked at Horizon Blue Cross Blue Shield before seeking the higher degree.
Having just received her doctor of philosophy from Rutgers, Moronski is starting a new career – as a postdoctoral fellow at the University of Pennsylvania's nursing school – that draws both from her time at Rutgers and her previous experience.