Carolyn Hayes joins School of Nursing faculty, named to senior roles at Rutgers Cancer Institute and RWJBarnabas Health
November 25, 2019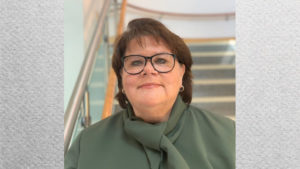 Carolyn Hayes (PhD, RN, NEA-BC), has been appointed associate professor at Rutgers School of Nursing and chief nursing officer for RWJBarnabas, Oncology Services and for Rutgers Cancer Institute of New Jersey.
Hayes, who joins the school's Division of Nursing Science, is responsible for and has oversight of nursing at Rutgers Cancer Institute and oncology service line-related nursing across RWJBarnabas Health, ensuring nursing excellence throughout an integrated cancer care model.
She most recently served as president and executive director of the Greater Boston Nursing Collective, a cooperative organization devoted to advancing the research, teaching, practice and leadership of integrative nursing.
Her clinical leadership roles have included serving as associate chief of oncology, medical and integrative nursing, as well as associate chief of adult inpatient and integrative oncology nursing at Brigham and Women's Hospital and Dana-Farber Cancer Institute in Boston. Learn more.