Anonymous donor creates 2 million dollar endowed scholarship at Rutgers School of Nursing
February 2, 2023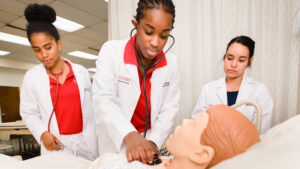 New Jersey—especially Essex County—needs nurses. Now, one Newark high school and a generous donor to Rutgers School of Nursing is poised to create a new pipeline for nurses from and for the region.
By 2021, the relentless toll of the COVID-19 pandemic on health care workers had led to a nationwide nurse vacancy rate of 17 percent, according to the 2022 NSI National Health Care Retention and RN Staffing Report. The New Jersey Collaborating Center for Nursing, housed at the School of Nursing, found that demand was high for nurses across the state. And the problem is particularly acute in Essex County, where health care systems and other employers posted more than 1,100 nursing job openings in 2021—the highest of any county in the state.
"It's really putting a strain on hospitals," says Edna Cadmus (PhD, RN) the center's executive director and a clinical professor at Rutgers School of Nursing. "They're struggling right now."
To encourage students to join nursing's dwindling ranks, an anonymous donor gave the Rutgers School of Nursing $2 million to establish an endowed fund that will provide full-tuition scholarships for two nursing undergraduates each year. The first preference for the scholarship goes to bachelor's degree students from Newark area high schools, particularly those coming from Weequahic High School, the donor's alma mater. A related gift of $60,000 will fund the first two scholarship awards beginning in the 2023-2024 academic year.
The donor—a Newark native who settled out of state—became motivated to fund this scholarship after her husband's medical diagnosis made home health nurses a fixture in their home. . .