Alumni Association hosts virtual gala
December 15, 2020
Continuing its tradition of celebrating Rutgers nursing excellence while raising funds to support nursing education, Rutgers School of Nursing Alumni Association hosted its annual Scholarship and Awards Gala—this time as a virtual presentation that can be viewed online.
The alumni association presented alumni awards to two School of Nursing graduates and recognized 12 Rutgers nursing students who received scholarships.
Launched with a champagne toast broadcast December 10 on Facebook Live, the mixed-media virtual gala includes video messages, images, and written statements. Cheryl Pantini (MST, BA, BSN, RN), events committee chair, hosted the live launch.
The virtual gala aims to raise at least $10,000 for scholarships for Rutgers students. Gifts can be made online.
"I wish that I was standing in front of all of you raising a glass in toast to all of the great work that nurses have done in 2020, especially during this global pandemic" said Mary Anne Marra (DNP, RN, NEA-BC), president of the alumni association.
"I have always been proud to be a nurse, and a Rutgers nurse, but never to the level of pride that I have felt during this past, extremely challenging year," Marra continued. "Thank you to all those who are joining with us to recognize and support excellence in nursing and nursing education."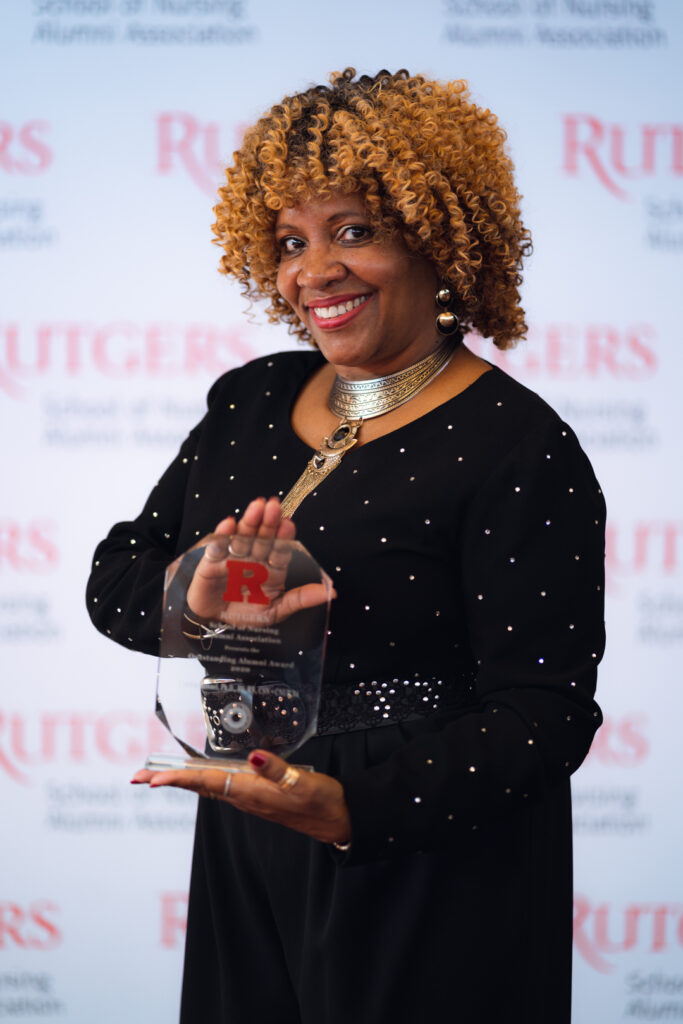 School Nursing Expert Receives Outstanding Alumni Award
Cynthia E. Samuel (PhD, RN, CSN), received the 2020 Outstanding Alumni Award in recognition of her distinguished, 34-year career in school nursing, her dedication to improving health and well-being in urban communities, and her advocacy for the school nursing profession.
In accepting her award, Samuel said, "being a Rutgers nurse, I stand on the shoulders of giants and stand in the remarkable company of past Outstanding Alumni Award recipients. As a Rutgers graduate, you know you are a great nurse, charged with stepping up to make a difference in the workplace. Rutgers nurses are taught to be outspoken, confident leaders, striving for nursing excellence and recognition."
Samuel earned her BS in Nursing in 1984 from Rutgers School of Nursing, where she completed the Minority Nurse Leadership Institute program in 2002. She is a former president and treasurer of the school's alumni association.
She has served as a school nurse at Grove Street Elementary School in Irvington, New Jersey since 2001. She is a former trustee of the County College of Morris, and a member of the New Jersey School Nurse Advisory Leadership Council. In 2018, she was featured in an NJEA television commercial acknowledging school nursing excellence. She earned her MS in health administration and PhD in health sciences from Seton Hall University. She holds certificates in school nursing and administration and supervision.
Obstetrics Nurse is Recognized as a "Rising Star"
Caitlin Kenny (MSN, RNC-OB, C-EFM) received the 2020 Rising Star Alumni Award. She earned her BS in Nursing, magna cum laude, from Rutgers School of Nursing in 2013.
"I am beyond honored and humbled to receive this award," Kenny said. "I loved every moment of my time at Rutgers. . .I would like to thank Rutgers School of Nursing for not only providing me with the education, but the opportunity to hopefully change the world for the better, a little bit each day."
Since 2013, Kenny has worked as a registered nurse in the high-risk obstetrics unit at Saint Peter's University Hospital in New Brunswick, New Jersey, where she cares for pregnant women with chronic medical conditions or complex pregnancies. She is cross-trained for the hospital's perinatal evaluation and treatment, mother/baby, and newborn nursery units and frequently acts as charge nurse. She holds certifications in inpatient obstetric nursing and electronic fetal monitoring. She earned her MS in nursing education from Walden University.
Kenny serves on multiple hospital committees at Saint Peter's, where she co-chairs the marketing and mentoring committee that works to mentor and retain new graduate employees. The hospital has presented her with its DAISY Award for Extraordinary Nurses and its Angel of Caring award.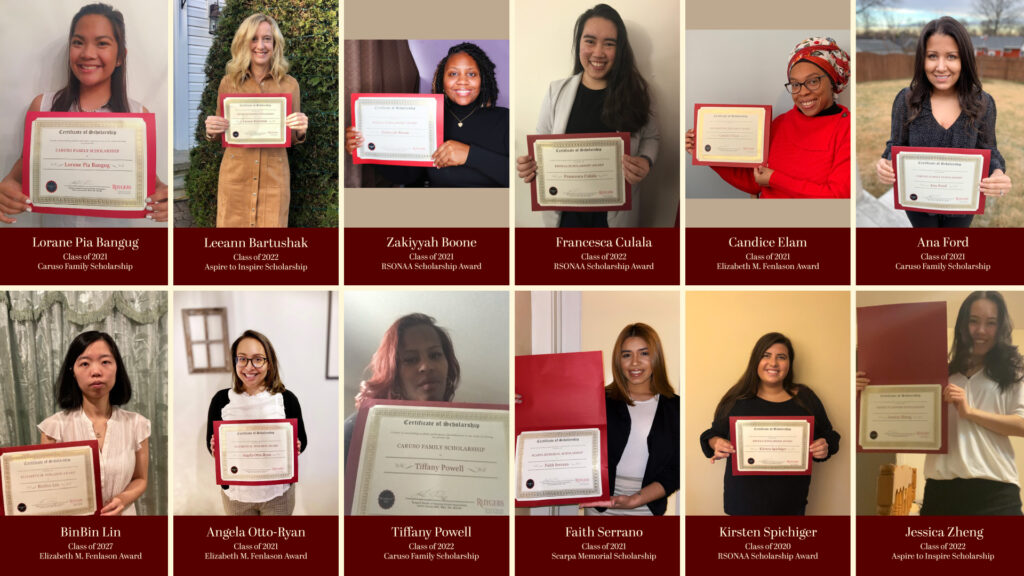 Nursing Scholarships Presented
"Congratulations to the awardees and scholarship recipients," said Linda Flynn (PhD, RN, FAAN), dean and professor at the School of Nursing. Herself a proud Rutgers graduate, Flynn earned her PhD from the nursing school and received the Outstanding Alumni Award in 2015.
"The work and contributions of the alumni association, and all our donors, are critical to ensuring the supply of well-educated, compassionate, and dedicated nurses across New Jersey and beyond," she said.
The alumni association presented these scholarships for 2020-2021:
Lorane Pia Bangug: Caruso Family Scholarship
Leeann Bartushak: Aspire to Inspire Scholarship
Zakiyyah Boone, RSONAA Scholarship
Francesca Culala: RSONAA Scholarship
Candice Elam: Elizabeth M. Fenlason Award
Ana Ford: Caruso Family Scholarship
BinBin Lin: Elizabeth M. Fenlason Award
Angela Otto-Ryan: Elizabeth M. Fenlason Award
Tiffany Powell: Caruso Family Scholarship
Faith Serrano: Scarpa Memorial Scholarship
Kirsten Spichiger: RSONAA Scholarship
Jessica Zheng: Aspire to Inspire Scholarship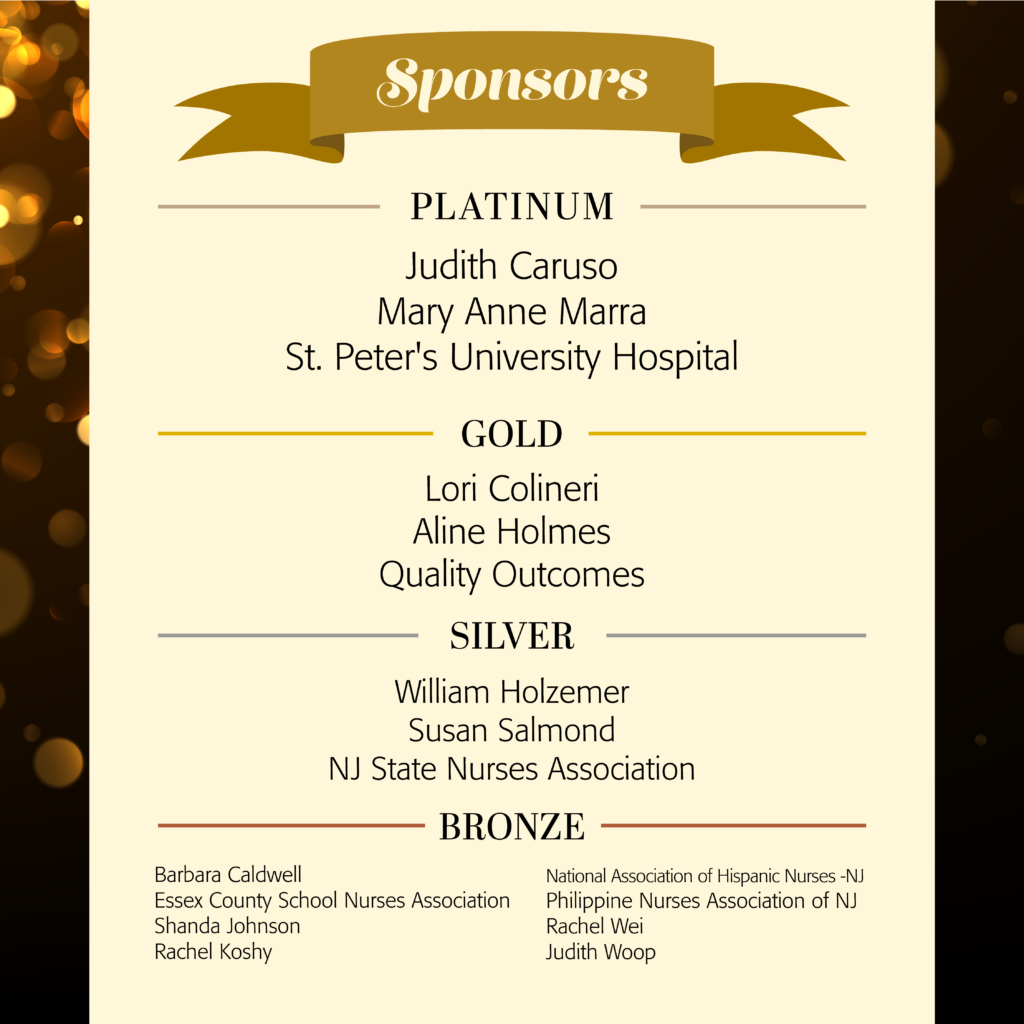 Sponsors Support Nursing Scholarship Fund
Thank you to all donors, including these sponsors:
Platinum
Judith Caruso
Mary Anne Marra
Saint Peter's University Hospital
Gold
Lori Colineri
Aline Holmes
Quality Outcomes
Silver
William L. Holzemer
Susan Salmond
New Jersey State Nurses Association (NJSNA)
Bronze
Barbara Caldwell
Essex County School Nurses Association
Shanda Johnson
Rachel Koshy
National Association of Hispanic Nurses-New Jersey (NAHN-NJ)
Philippine Nurses Association of New Jersey (PNANJ)
Rachel Wei
Judith Woop