A special message from Interim Dean Dr. Linda Flynn
March 23, 2020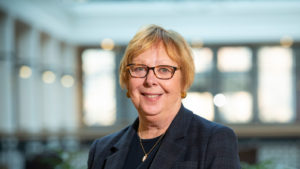 To our dear Rutgers School of Nursing community and friends—
It goes without saying that our world and daily lives have changed dramatically in the last couple of weeks.
The COVID-19 pandemic has created seismic shifts in the way we at Rutgers School of Nursing must go about our work and mission to educate the best and brightest nurses.
This week, Rutgers Nursing students returned from spring break to a world vastly different from the one they left just two weeks ago. And over that same time period, faculty and staff began laboring to bring Rutgers Nursing operations to remote status—from admissions moving all info sessions for prospective students online, to shifting from in-class to web-based learning. They did so in record time.
And it's not just us—schools everywhere have had to adapt. From kindergarten to college, from the pre-k teacher to the professor, nearly everyone is teaching and learning from home in an effort to employ critical social distancing measures that will help us combat COVID-19 together.
And nurses … they are on the front lines of this battle, putting themselves daily in harm's way to bring the best care to those in their charge and demonstrating the ultimate commitment to care for their neighbors.
There is much that lays uncertain about the days ahead, but one thing is for sure: we are committed to continuing to educate and train the most skilled and compassionate nurses in the workforce, even, perhaps especially, at a time like this.
There is no greater example of fortitude and skill than that of a nurse, and especially that of a Rutgers Nurse.
In this together,
Linda Flynn, PhD, RN, FAAN
Interim Dean
Rutgers School of Nursing