A lifetime of service. Peter Oates, administrator and adult nurse practitioner, retires from Rutgers School of Nursing.
February 10, 2022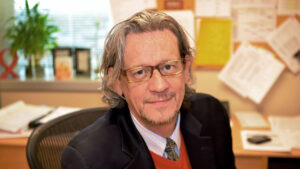 Nurse leader devoted many years to improving health and well-being for people living with HIV and LGTBQ populations
Following an extraordinary 47-year career in nursing, Peter Oates (MSN, RN, ACRN, NP-C) will retire from Rutgers School of Nursing effective February 28. For more than 20 years, Oates has worked at the François-Bagnoud (FXB) Center within the School of Nursing, where he is clinical director of the Northeast Caribbean AIDS Education Training Center, Regional Partner Site; director of health care services; and provides clinical care as an adult nurse practitioner.
British-born Oates, whose work abroad included private duty nursing for Princess Diana's father, has made a major impact in New Jersey and beyond through his focus on ensuring that vulnerable populations, especially people living with or affected by HIV, have access to top-quality, compassionate care.
"Peter Oates is a phenomenal nurse leader, educator, and clinician, who has made outstanding contributions to our school, the communities we serve, and the nursing profession at large for nearly 50 years," said Linda Flynn (PhD, RN, FAAN), dean and professor of the School of Nursing. "We thank him for his dedication and wish him all the best on his retirement."
Andrea Norberg (DNP, MS, RN), executive director of the FXB Center, said "I met Peter in 2003 when I joined the FXB Center and was immediately in awe of his steadfast commitment to excellence in HIV care, compassion, nursing expertise, approachability, and engaging sense of humor. Peter has substantially contributed to the legacy of the FXB Center and to its ability to grow and thrive."
Early Career
Born and raised in New Mills, Derbyshire, England, Oates received his diploma in nursing from Thomas Guy School of Nursing at Guy's Hospital in London, England, where he held several staff positions. He spent a year caring for John Spencer, the 8th Earl Spencer, and developed lasting relationships with Princess Diana and other family members.
He came to the U.S. in 1983, starting in San Francisco, where volunteered at an STD Clinic while interviewing for a job at San Francisco General Hospital's slated AIDS unit. The job fell through because of funding issues and Oates found his way to Newark, New Jersey, or, as he says, "Newark found me," when he was recruited in 1984 to University Hospital. At UH, his posts included nurse manager at the neurosurgical intensive care unit and the surgical/trauma ICU.
Continuing his education, Oates earned his BSN degree in 1992 from New Jersey City University, He received his BSN degree from New Jersey City University and his MSN in 1999 from the School of Nursing then at the University of Medicine of New Jersey. His certifications are Adult Nurse Practitioner and HIV/AIDS Certified Registered Nurse.
A Nurse in HIV/AIDS Care
Oates got his start in the field of HIV/AIDS care in 1994 when he became a nurse clinician in the Infectious Diseases Practice at University Hospital. He joined the FXB Center—an international leader in HIV care, prevention, and training–in March 2000 as adult nurse practitioner in the ambulatory care program, a role he's continued even while taking on administrative leadership roles at the center.
According to FXB Center co-workers, Oates' contributions are wide-ranging: providing health care to clients who are infected with HIV, working with clients who are transitioning their gender and clients of all sexual orientations, helping make the center a safe place for the LGBTQ community, and educating nursing and physician assistant students.
Oates serves as medical advisor-consultant for two transitional homes for men and women living with HIV operated by the AIDS Resource Foundation for Children. He is president of the Association of Nurses in AIDS Care, New Jersey Chapter, and chair of the ANAC national Chapters Committee. He is a member of the New Jersey Taskforce to End the HIV Epidemic and the Governors' Advisory Council on HIV/AIDS and Blood Borne Pathogens.
He considers it his life's mission, with his husband, Gary Paul Wright, to advocate for HIV and AIDS health care. The couple together founded the Newark-based African American Office of Gay Concerns, which offers free rapid HIV testing, condoms, sex education, and support groups. Oates has received numerous awards for his work with the LGBTQ community, his outstanding community service, and his work in AIDS/HIV care. Upon receiving an award, Oates said: "The purpose of our lives together as a couple was to connect the dots and sprinkle the fairy dust, meaning that we need to recognize people in the community and entities and agencies in the community who need to get together in order to build a better health care system within this county and I think we do that on a daily basis."