COVID Diaries: Anoush Kalachian, BS, RN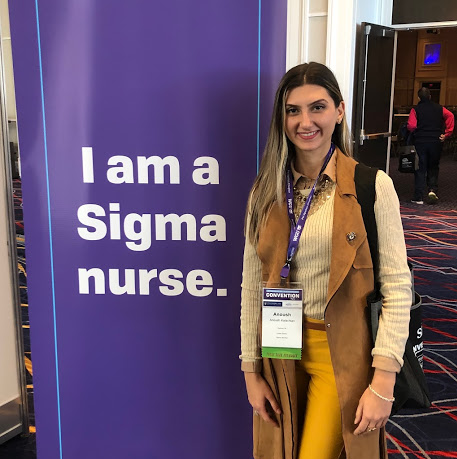 DNP Student and staff nurse in a hospital med-surg unit
Student, DNP – Adult-Gerontology Acute Care Nurse Practitioner
Expected Graduation, May 2022
Employment: Staff Nurse, Hospital Medical-Surgical Unit
Honors: Kalachian received the Nurse of the Year- Rising Star Award 2017 from the March of Dimes New Jersey Chapter and was sponsored by a local chapter to attend the Sigma biennial convention 2019 in Washington, DC.
Anoush's story
Kalachian shared her experience not just working daily with COVID-19 patients, but how the pandemic has impacted her own family's health. In early April, during her self-quarantine with mild symptoms, she relayed that her father and mother had both tested positive for the virus. While her mother also had mild symptoms, her father had work to regain his strength after being bedridden for almost three weeks. "My dad is doing much better," she said. "God has definitely been keeping us."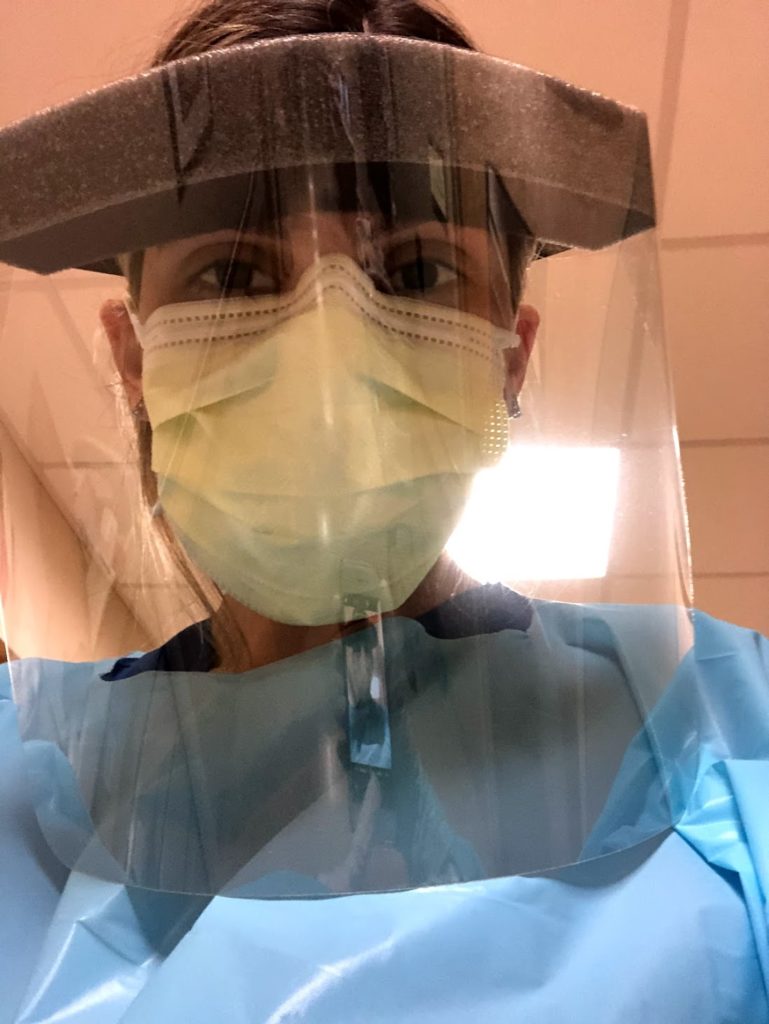 ---
In her own words: Fighting a war with an unseen enemy
"'Armed for battle?' asked the nurse standing across from me as we watched each other don personal protective equipment. It took me 15 minutes to plan my tasks and don 8 pieces of PPE before seeing just 1 patient; there were still 3 more. Last week I had volunteered to float to the orthopedic floor before finding out about its transformation into a COVID unit.
"As I attempted to take a deep breath through the muggy mask, I looked around through the foggy face shield at my dear colleagues gearing up and the manager giving out directions. Yes, I was armed for battle. We were fighting a war with the unseen enemy invisible to the naked eye, the little devil in the shape of a spiky ball, yet we know it's here.
"This disease has restructured the role of nursing. I've functioned as a nurse, aide, respiratory therapist, as well as housekeeper, increasing my own exposure to this deadly virus in order to reduce the exposure of multiple colleagues. Almost every workday, one of my loving family members would urge me to call out of work. Tempting, but a sense of duty nudged at me.
"Today is Day 6 of my mild symptoms (sore throat, runny nose, anosmia, ageusia) and my dad's result comes back "detected" for SARS-CoV-2 RNA. According to the employee self-monitoring program, I need to call out sick for the next 14 days. I can't help but feel like I'm abandoning my duty, leaving four patients without a nurse, causing my colleagues to be exposed all the more to make up for losing me. In an attempt to justify my dilemma, a friend says, 'Please don't feel that way. You did your part at the hospital, now you're doing your part by staying home.'
Words to fellow nurses
"Every day, you live and leave a legacy; you live in the legacy of the heroes before you, and you leave a legacy for those to follow you. When you suit up with your PPE armor and prepare for war with the unseen viral enemy, remember what it is that you do: you do nursing. You care for the sickest of the sick, which is not only a science but an art; an art that requires training and dedication, and an almost superhuman foresight. Your training and zeal have culminated for such a time as this, for it is the human life for which we do business. Have courage, take heart, and pray (Holy Bible, 2 Corinthians 1:9)."
April 8, 2020