Chunxi He, MACS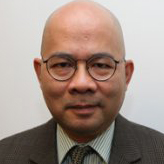 Director of IST Operations
Newark Health Sciences
SSB 638
(973) 972-6388
A seasoned information technology manager who over the past 25 years has worked extensively in both the financial services and healthcare fields, Jerry He became Director of IST Operations at the Rutgers School of Nursing in 2016.
At the Rutgers School of Nursing, Mr. He is responsible for the overall planning, organizing, and execution of all IT functions. This includes directing all IT operations to meet customer requirements as well as the support and maintenance of existing applications and development of new technical solutions. Areas of responsibility include the full range of information systems and telecommunications activities, including determining user requirements, recommending practical solutions, and leading school­wide efforts to improve the effective use of technology.
Before arriving at RSON, Mr. He had served as informatics manager in the surgery department of New York City's Memorial Sloan Kettering Cancer Center since 2009. There, he managed a team of 15 developers/support staff in clinical and research systems, working with the surgery department's leadership and hospital IT managers to strategize informatics direction in support of clinical, research, administrative and operation needs. He also worked closely with the hospital enterprise data group to identify technology and products for processing unstructured data into discrete data elements.
From 1998 to 2009, He was Vice President of Goldman Sachs Asset Management Technology in New York City. There, he managed a team of developers in the Core Data group and provided technology solutions to support various trading desks. He also served as a back-office data expert and data architect/modeler for various IT groups within the division.
Prior to joining Goldman Sachs, He was an Associate in the Private Banking Division of JP Morgan where he developed quantitative trading models for the private banking business. Before going to Wall Street, Mr. He was a project lead/senior developer for the New York County District Attorney's Office , where he implemented the nation's first automated complaint typing system among district attorney's offices nation-wide.
Mr. He holds a master's degree in computer sciences from Brooklyn College (CUNY) in Brooklyn, NY, and a bachelor's degree in computer sciences from Zhongshan (Sun Yat-sen) University in China.