Dean Linda Flynn's Greeting for Fall 2021
September 7, 2021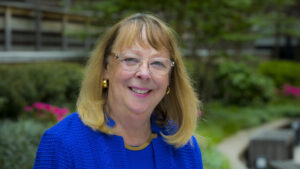 Welcome Back
As we embark on a brand-new academic year and begin to regularly meet in person after being away so long, I can't help but think of how these times of crises and uncertainty have presented challenges to all of us. Yet, I am so proud of the way that the students, staff, and faculty at Rutgers School of Nursing have persevered.
Despite the challenges of these times ….
Our Doctor of Nursing Practice program is rated # 15 in the nation by U.S News & World Report.
We received designation by the National League for Nursing (NLN) as a Center of Excellence in Nursing Education.
Our Rutgers Community Health Center, a primary care center managed by our nurse practitioner clinicians and faculty, received the 2021 NJBiz Healthcare Heroes Award.
Our external grant funding tops more than $45 million. 
The new Pediatric Acute Care Nurse Practitioner program admitted its inaugural class.
The Faculty Fellowship Program was launched to help newly appointed faculty transform into expert nursing educators.    
We integrated Stress First Aid and Schwartz Rounds into our curricula to help our students maintain mental and emotional wellness during turbulent times.
Our students, faculty, staff, and alumni collaborated to develop a plan that enhances Diversity, Equity, and Inclusion at the School of Nursing and beyond.
As you can see from these accomplishments, throughout the good times and throughout the difficult times, Rutgers School of Nursing continues to represent Excellence in Action in nursing education, clinical practice, scholarship, and research.
As we begin a new academic year, we will continue preparing the leaders of tomorrow as we collectively model leadership today.
I wish you much success throughout the academic year. Welcome back.
Linda Flynn, PhD, RN, FAAN
Dean & Professor
Fall 2021