Spreading awareness about colorectal cancer
March 20, 2018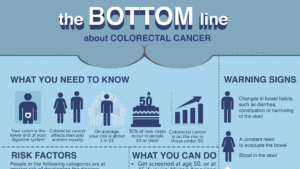 In the month of March, the Rutgers School of Nursing chapter of the American Association of Men in Nursing (AAMN) is doing its part in promoting Colorectal Cancer Awareness and helping to educate the community about the risks and signs of this disease.
"The AAMN is taking on colorectal cancer awareness because it's a major health concern that affects many people annually," said Pak Chau, president at large of the Rutgers School of Nursing chapter of the AAMN. "Hopefully, by bringing up these colorectal cancer screening statistics, we can help overcome some of the fears that stop many men from getting routine colonoscopies."
Throughout this month, AAMN students will be sharing statistics and information with the School of Nursing community, as well as engaging students in discussion about the disease, its symptoms, treatment and prevention.
According to the Colorectal Cancer Alliance, the partner and sponsor of the Rutgers School of Nursing for this awareness month, colon cancer is the third most commonly diagnosed form of cancer and second leading cause of cancer death in men and women in the U.S. and impacts men and women equally. According to the organization, while the majority of new cases of the disease occur in people age 50 or older, diagnosis is on the rise in younger people, with as many as 1 in 10 people under the age of 50 being diagnosed. Symptoms of the disease include change in bowel habits, persistent abdominal discomfort or chronic fatigue, though more than half of all diagnosed had no symptoms.
Not only is awareness of the disease important for prevention and personal health, it's important for the nursing student population to be aware of the disease as future caregivers.
"Students are going to be the next line of health care providers in the hospitals and communities providing care, educating patients, and practicing good public health. We, as students, need to know what kinds of preventative measures can help us manage the ever-aging population," Chau said.
To learn more about colorectal cancer, including statistics on diagnosis, prevention and treatment, visit the Colorectal Cancer Alliance or call the helpline at 877-422-2030.
The Rutgers School of Nursing chapter of the AAMN exists to educate the general public on the significance of men in the nursing profession and to inspire men to pursue a nursing career. To learn more about the organization, email aamn.ruson@gmail.com.