Rutgers School of Nursing graduating student wins top honors for DNP project presentation
May 4, 2020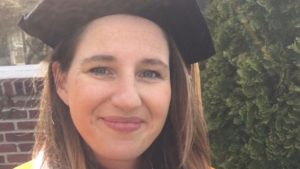 Celebrating the Class of 2020
Carol D'Innocenzio, a Class of 2020 student in the Doctor of Nursing Practice, family nurse practitioner program at Rutgers School of Nursing, won first place among DNP student presentations at the Eastern Nursing Research Association's 32nd Annual Scientific Sessions.
Each year, the annual ENRS conference unites several hundred nurse researchers, health care leaders, university faculty, and nursing students from throughout Northeastern U.S. in an exploration of research to improve health. This year's event was held virtually this past March.
D'Innocenzio presented a poster adapted from her DNP project at the School of Nursing entitled "The Effect of a Nurse-led Intervention on Blood Pressure Control among Older Adults with Hypertension," with assistance from her project chair, Assistant Professor Irina Benenson (DNP, FNP-C, CEN).
"As ENRS President, I want to emphasize that the competition is rigorous. To win first place is most noteworthy," said Ann Marie P. Mauro (PhD, RN, CNL, CNE, FAHA, FAAN), associate dean, professor, and director of the Center for Educational Research and Innovation (CERI). "Their work truly exemplifies Rutgers School of Nursing excellence in action!"
"One of the most common causes of poor blood pressure control is patients' lack of self-management skills for hypertension," said D'Innocenzio.
In her short-term, pilot study, D'Innocenzio held group sessions for older adults covering topics such as taking medications properly, eating healthy foods, engaging in regular exercise, and monitoring blood pressure at home. She found that this intervention led to reduced blood pressures among the participants, pointing out that such education should be an integral part of care.
D'Innocenzio's focus for her DNP project came from her work as director of community relations at a long-term care facility where she had been sharing information on hypertension self-management. She'll graduate with her class during a virtual commencement on May 31, after which she plans to expand her outreach concerning hypertension.
"This project has inspired me to continue to work with older adults in the community to help increase their knowledge and understanding of their diagnosis of hypertension and to improve their overall health," she said.