"It Takes a Community"  Rutgers Community Health Center and New Community Corporation co-host health & wellness fair
November 3, 2021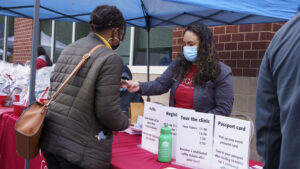 Co-hosting its first-ever Health and Wellness Fair, Rutgers Community Health Center (RCHC) underscored its commitment to advancing health in urban neighborhoods. The center, a program of Rutgers School of Nursing, partnered with New Community Corporation to host the October 23 health fair at its home base on the NCC campus at 274 South Orange Ave in Newark.
Along with DJ music, free food, "mask-on" face painting, giveaways, and facility tours, visitors were offered health screenings, COVID-19 testing and vaccination, and a wide range of information aimed at promoting health and well-being.
"Community is everything for Rutgers Community Health Center. It's more than just a slogan. It's commitment to action," said Andrea Norberg (DNP, RN), the health center's executive director. "We were pleased to demonstrate this commitment, working together with New Community Corporation, and all of the participating organizations."
As co-hosts of the event, RCHC and NCC staffed several tables highlighting the organizations' services. Nurses and other clinical providers from the health center were joined by School of Nursing faculty and students in providing blood pressure screenings and sharing information on nutrition and other health-related matters. Visitors also toured the Rutgers health center, which offers comprehensive care and welcomes new patients.
"We were excited to work with a steering committee comprised of leaders from local faith-based, civic, and charitable organizations," said Fred Hunter (MSc), chief operating officer at New Community. "This event was a true collaboration that introduced our neighbors to the many services available to them through New Community Corporation, Rutgers Community Health Center, and our guest organizations."
NCC, one of the oldest and most comprehensive community development organizations in the nation, provided information on its programs in areas including early learning, skilled nursing, housing, health services, family services, mental health and substance abuse treatment, education and training, and financial services
Essex County's COVID Vaccination Unit provided testing, initial vaccinations and booster shots. The League of Women Voters provided information about voter registration, voting, ballots, and polling places. Visitors also met with representatives from organizations including the Leaguers, Helping House, FOCUS Hispanic Center for Community Development, and Partnership for Maternal and Child Health. With open enrollment wrapping up, Aetna and Amerigroup provided event support and offered information about health insurance.
There were plenty of giveaways including shopping bags filled with free groceries, and door prizes like gift baskets featuring games for kids, kitchen items, or sports gear.
"Even the rain held off for our inaugural event," said Norberg. "Following the excellent results for this first time around, we're already thinking about hosting another health fair this spring. In the meantime, Rutgers Community Health Center and New Community are here to serve our neighbors."
Rutgers Community Health Center located on the NCC campus at 274 South Orange Avenue, 3rd Floor, Newark, offers a full range of health care services for children and adults. For information, visit rchc.rutgers.edu. To make an appointment, call 973-732-6040/
For more information on New Community Corporation, and its mission of helping residents of inner cities improve the quality of their lives, visit newcommunity.org